My little sister, Noelle, graduated from college this past weekend. *sniffs* Her degree is in International Relations and Foreign Policy. (Government.)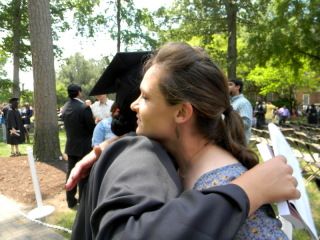 She lives in Virginia Beach, so visiting is always fun.
My parents, sisters, nice Abi, Kevin, and I. I cannot believe my 12 year old niece is just a few inches shy of being as tall as I am. *I feel old*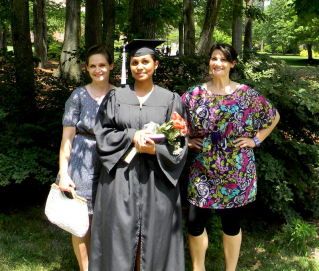 Us three sisters. :)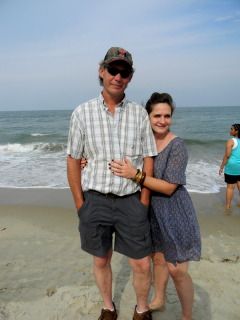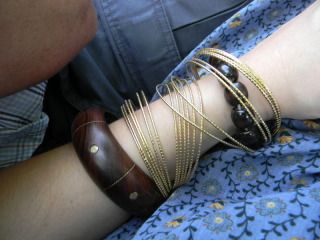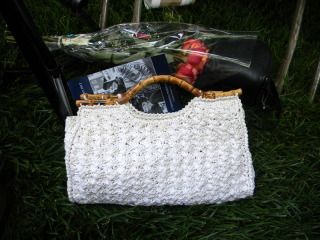 Dress: thrifted; $5
Belt: H&M, on sale for $5
Sandals: thrifted a few weeks ago
Handbag: Vintage 60s raffia with bamboo handles, thrifted, $4
Wood bangle: thrifted a few weeks ago
Wood bead stretch bracelet: made my me, $0.50 in supplies (the morning of the graduation, no less!)
Gold bangles: Target, $3.50
Earrings: Target, $1.50
Total:
$19.50
(For my Frugal Fashion outfit posts, I am not including items bought previously; only items bought specifically for a particular look/outfit.)
I had originally picked out a 50s pink wool blend pencil skirt a white blouse with black polka dots and a wide black belt with a bow; with one of my amazing pairs of shoes I never wear anywhere; but changed my mind when I found out hot HOT it was going to be, and the ceremony was in the blazing sun. That, and we were checking out of our hotel so I would have to go change at my sister's room (at a boarding house). So I opted for something I could be comfortable in all day long.
The handbag is my new favorite. I had originally bought it for shop inventory, but decided I loved it and wanted to keep it!
I am sorry for the tiny photos; I am trying to figure out how to post larger pics on blogger but I can be pretty dense and slow about this kind of thing. I haven't figured it out, yet. I know it's hard to see details in these small pics; like the rose clasp on my H&M belt. :(
Getting pretty excited about my Arts and Crafts festival booth this weekend! I am going to start packing items in plastic tubs today, and trying out different display pieces for my tent. YAY!