I had this mini easel/chalkboard in my pile of yard sale/give away stuff. It was something I got via my sister in law, or my mom - I can't remember for sure whom. But the kids kind of out grew it, and besides, the dry erase side was permanently marked with my one niece's pretend store policies, hours, and price list for her "items".
:)
I decided to salvage it from the yard sale pile and give it a new use as a chalkboard sign for future yard sales, bake sales, festival tents, and any time I need a handy dandy chalkboard sign.
I bought a can of Krylon chalk board spray paint and a box of white chalk, and after a few hours had my sign compete.
The whole time I was doing the spray painting, I was being watched by a large black snake who had been cornered and freaked out by my cat Buggs and Dodge. When they started teasing the snake and it started striking at them, I grabbed them both and put them in the house so the poor snake could escape. But he chose to watch me for 20 minutes, instead.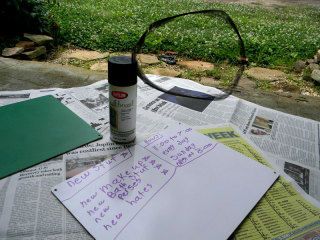 I suppose I should have painted the frame but I was too lazy.