It is never too early to start on Christmas projects. Today was nasty, cold, rainy, and windy and I was trapped inside anyway; So I pulled out an old idea and went to work.
I have always despised traditional Christmas "stockings", and find them somewhat tacky. No offense to you readers if that is what you have; but for me personally, I cannot do it. So now, getting ready to celebrate our second Christmas together as Husband and Wife, I decided it was high time we had our own Christmas "stockings." Vintage, of course.
First I dug out a very old torn, stained, worn out, brocade, fringed, monogrammed table scarf. I cut off the side with the monogram and set that aside for another project. Then I cut the remaining piece in half lengthwise, and went to work with needle and thread:
When I was done, what I had created was more like Christmas Tube Socks. There is no foot to these; I didn't want to cut the vintage fabric; so I just sewed them into long tubes.
For Kevin's, I went with a row of vintage buttons, and no frills. I sewed the buttons on in a very different kind of way; something I saw on Esty recently and got inspired to try on a project. I love the effect! And a very masculine-vintage look. He liked it.
For mine, I cut off the needle woven fringe; as it was very tattered on my piece. I added, instead, a bit of lace from a bunch of trims, ribbon, lace, and other stuff in a hatbox my Grandmother gave me from her mother dating back into the early 1900's - 1930's. I also added some really cute sage green velvet ribbon and a few satin ribbons as streamers, with a vintage pearl button.
I was going to monogram mine, and couldn't find my monogram templates and was too lazy to draw my own, or free-embroider it; as I would usually have done. Maybe later.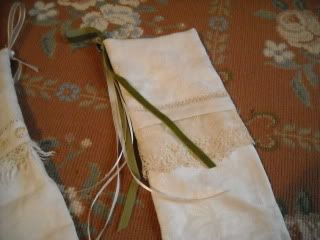 I like my Christmas Tube Socks. They look very old fashioned and vintage; they are not too loud; they are up-cycled from cast off linens; they're perfect for us. I think I might make some more.