Key Lime pie is my favorite pie,
ever
. I first remember my mom making it from a recipe in her "Indian River Cookbook" that was published in the 50s. The book's inside cover had an ad about the benefits of electricity in the home.....
You see, my Mom grew up in Florida and our family has quite a history there; and Florida is where Key Lime Pie - my favorite pie - is from .
My mom went to Cocoa High School. She played in the band, and surfed, and lived for a while at her Aunt and Uncle's citrus grove on the Indian River - which is still occupied by our family members today. Even though the pier is gone, and the sailboat sank in one of the last hurricanes, the grove is still there. My great Grandmother lived two blocks from the ocean in
Cocoa Beach
.
Later, when my parents got married, they lived in some other Florida cities like Miami and Gainesville; where the family finally settled for awhile, until moving up to North Carolina, where I was born. We moved back to Florida for awhile, and lived out in the country until my sister was born. Then we moved back to NC after a couple of years. But, we went back to visit frequently.
My Mom and my Grandmother both, took us to all the cool places:
The Devil's Millhopper
(a sinkhole),
Payne's Prairie
(where we walked the trails and saw gators in the wild - close enough to touch)
Lake Alice
(where we saw one gator fight another one once). We also went to the
Kennedy Space Center
all the time - the rocket graveyard was the coolest. We've been to
St. Augustine
over and over - for kids, there is nothing cooler than exploring the
Costillo de San Marcos
, and all the buildings in the living history village; taking the ferry boat to
Fort Matanzas;
or climbing the 200 some steps of the
lighthouse
- where my Aunt worked as a guide for a while. The
Marjorie Kinnan Rawlings House and Farm Yard
was pretty neat, too. And probably the best of all, tubing at
Ichetucknee Springs.
Florida is like a second home to me.... and writing this now, I want to go back for a visit. *sniff*
But, back to the pie......
"Key" limes come from the Florida Keys. ("Key" limes are grown in other parts of the world as well.) A Key lime is much smaller than a regular Persian lime. And I think their flavor is more "limey", and fruity. They're best when yellow. You should be able to find Key limes at a larger grocery store; you may also be able to find bottled Key lime juice.
Key lime pie is made from condensed milk originally; and still is. You can make it with water and cornstarch like the Lemon Meringue pie from a few posts back; but I choose to make it with condensed milk, like the original.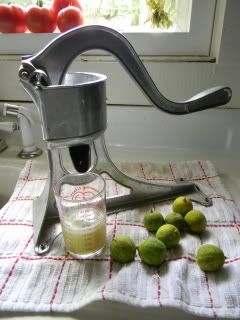 In the early, less populated days of Florida's history, refrigeration was scarce in the Keys - because electricity was scarce in the Keys. So the milk the residents had was condensed, canned, and boated in. And so, Key Lime pie was born.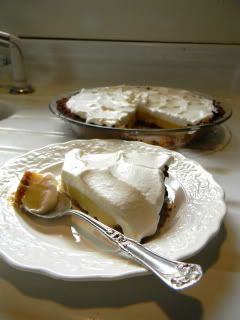 Key Lime Pie
3 egg yolks
1can sweetened condensed milk
1/2 cup Key Lime Juice
1tsp. finely graded rind of the limes (just the green part)
1 graham cracker crust, baked
1 cup whipping cream
2-3 Tbsp. sugar
Fold the condensed milk, lime juice, rind, and egg yolk together until blended. Pour into the prepared crust. Bake at 325 for 20 minutes until set. Remove from the oven and cool
Whip the cream with the sugar (more to taste) until stiff peaks form; spread over cooled pie. Cover, and refrigerate overnight. (You can use regular lime juice if you want.)
( Most recipes include meringue topping; but I prefer whipped cream; lightly sweetened.)