Looky what I found at "Sallies" yesterday.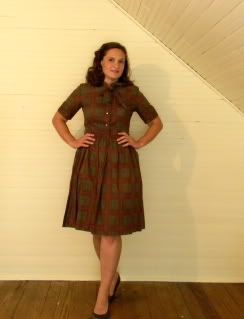 I went over the dress racks and debated about a bunch of different dresses that just weren't the "vibe" of my shop; nor things I would wear myself. I moved on to other parts of the store to browse and ponder, then returned to the dress racks once more before leaving, to affirm my decisions
not
to buy what I
had
been looking at; when I spotted this. I don't know if I passed over it before, or if someone put it on the rack after I walked away, but as soon as I saw that print and the cuffed 3/4 sleeve I yanked it off the rack in a flash!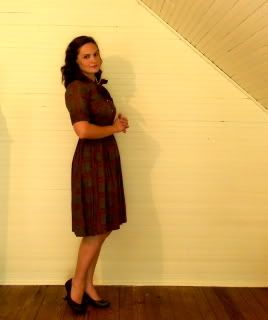 At first I was expecting to use it as inventory for the shop; because I never find things from the late 40s, postwar early 50s era that fit me - the waists are always so tiny. But then I got home, and decided to give it a try; and what do you know - it fits me like it was
made
for me!
(This is partly due to the fact that I have been following a nutritional plan I read about in a book; for tiredness and fatigue. The plan worked for my tiredness and fatigue, and I lost weight - mostly in my middle - to boot! That's a post for another day, however.)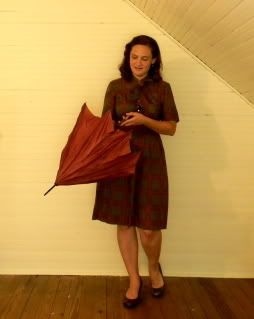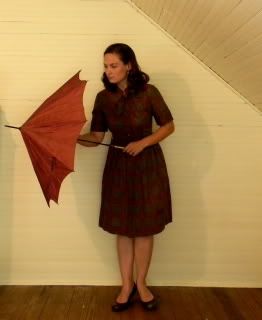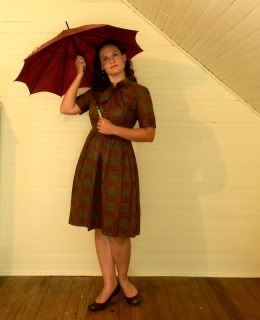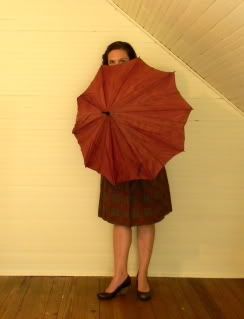 It's a Pat Perkins label. In 100% cotton.
My sister gave me the umbrella; that she picked up at an antique shop in Staunton, VA. She said I had to go to the shop.... and mentioned something about the entire second floor being full of "racks and racks" of vintage clothing.
Anyhow... I estimate the umbrella/parasol to be pre 1950s - maybe even pre war? I think it's from the 1930s at least. The handle is metal and (what I believe to be) lucite. The end knob is engraved in a lovely monogram. I love it.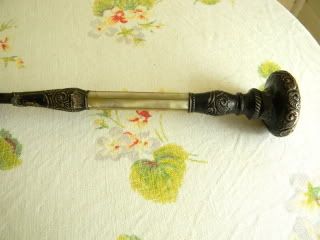 Oh and the shoes in the photos? I found those at the same store, at the same time as the dress. By Blowfish. They were a perfect match; it was like it was meant to be.
I love it when that happens!