I love love lovelovelove citrus desserts. Even more than chocolate desserts, since I found out chocolate gives me headaches.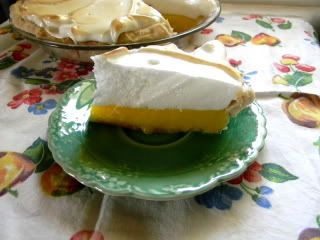 One of my favorites is classic lemon meringue pie. I began trying my hand at making lemon meringue pie in my middle/late teens the "easy" way; with sweetened condensed milk. I also had a heck of a time getting meringue right.
Eventually I decided to search out a "no-sweetened condensed milk" recipe; the way the pie would have been made in the good ol' days - because I love that kind of recipe. The originals. The oldies, but goodies. The ones that take a little longer; the ones that aren't "fast" or "easy"; the ones with "Grandma's" somewhere in the title.
So I fooled around with some recipes using plain milk. (Not condensed.) They tasted good; but the pies fell apart when sliced and served. I don't know about anyone else, but I like for a slice of pie to remain in an upright posture when presented on a plate; not succumb to gravity and spread out into a pile of sugary blob. And that's what the milk recipes did; they turned into a pile of yellow glop as soon as the pie was sliced.
So I did some more reading and looking at recipes; and I noted that the really old ones used water; not milk. So I altered my recipe; using two lemons instead of one; omitting the standard 2 cups of milk, and instead used 1 1/2 cups of water. I also cooked it till it was truly thick, and not just "thickened".
And as for the meringue: It has taken me many repeated and failed attempts over the years to get meringue right. I figured it out, finally. Room temperature egg whites, and working fast with the egg whites. Perfect every time now.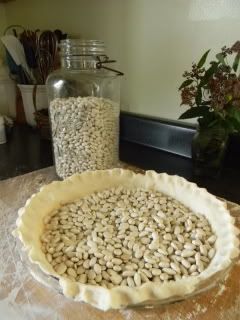 I use beans to weigh my crusts for pre-baking. I guess I ought to get some pie weights. But this old fashioned method has served me well for years......
Just so you know, I did not personally eat
all
my recent experiments; I brought it over to my parent's for my dad to do away with. Hehehe
Old Fashioned Lemon Meringue Pie (No Milk)
1 cup sugar
1 Tbsp. flour
3 Tbsp. cornstarch
1/4 tsp. salt
1 1/2 cup water
2 lemons, juiced and zested
2 Tbsp. butter
4 egg yolks, beaten
1 pastry pie shell, baked
4 egg whites
6 Tbsp. sugar
In a med. heavy saucepan, whisk together the sugar, flour, cornstarch, flour, and salt. Stir in the lemon juice, lemon zest, and water. Beat the egg yolks in a small bowl and have ready.
Cook the lemon mixture over med. high heat until boiling. (Will be thick.) Stir in the butter. Gradually mix in 1/2 cup of the hot liquid into the egg yolks.Whisk back into the saucepan. Cook at a gentle boil, stirring constantly, until thick; one or two minutes. remove from heat and pour into the prepared pie shell.
Beat room temperature egg yolks with an electric mixer until foamy; begin adding 1 Tbsp. sugar at a time and continue beating until high peaks form. Spread on top of the lemon filling while it is still warm and seal to the edges of the crust. Bake in a slow oven (300 - 275) until meringue is lightly browned. Cool, an serve.