An elderly woman about a quarter mile from my house passed away several months ago, and the family is liquidating her possessions - including 50-60 acres of trees for timber. This week they held an estate sale in her home.
Estate sales are kind of creepy, in some ways.... after all, you're sifting through the accumulated possessions of the person's lifetime. I always feel the creepiest when going through the bedrooms. All the most personal effects.... I always find myself whispering at estate sales; being ultra careful and respectful. It all just so sad.
Today I had my most depressing estate sale experience of all (to date) - when I opened a small attic door, and peered inside, I saw a large, old suitcase. I asked the woman running the sale if I was allowed to look in it; she said yes. When I opened it, I picked up a bag, with a cotton print dress inside, and noted that there was a hand written note pinned to it. I began reading it.....
"... This was the dress I was wearing on (so and so date in the 40s) when my 7 year old son (so and so) was killed by a car in the highway in front of our house.........."
I stopped reading, and set it aside, it seemed so private. I knew the woman had a child who had died but I did not know he had been struck by a car. A few seconds later the woman came back and picked up the dress and note, saying that that was the one thing the family had asked her not to sell from the clothing piles.
When we (my Mom and I) came upon a huge box of the deceased boy's clothing and shoes, and a Dick and Jane reading book with his photo taped on the front, it was very emotional.
Never the less, I still buy things at estate sales, because I take them into my home and give them a new life - or sell them to others, who give them a new life! So that is a happy aspect of estate selling.
Anyhoo; I bought a PILE of stuff, but no furniture; the hoosier cabinet I was considering was already sold and nothing else (furniture wise) fit my cottage style decor.
(What I really want is an iron bed! Dagnabbit!)
Here are some of my favorite things from my truck load I brought home..... textiles and glassware, of course. My two biggest loves!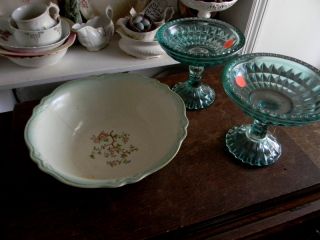 Fell in love with these two aqua cut glass footed dishes and the Homer Laughlin serving bowl with the pale aqua rim and the apple blossom painted in the bottom!
Print aprons from the 30s, flour sacks from the 30s (carefully folded and stored in tissue lined boxes, no less) and this roll of pink floral print cotton - that I have no idea what to do with; it was just too sweet to pass up.
8 floral print cotton dresses, 30s - 40s. Some of the dresses I found were threadbare and in complete tatters; I didn't buy those.
It was a good sale; the woman running the sale, it turns out, owns one of my favorite antique/garden shops in town called "Enchanted Surroundings". She came over and asked me for my contact info so when she runs other estate sales, she will give me a ring so I can get in on her action! Woot.
Thanks, Dora. Your things will be well loved again. :)