I had a day off from my day job, so my Mom, my nephew Owen and I went "junking" in a nearby city.
I mostly bought inventory for my two Etsy shops, but I did pick up a few things for myself; including this old plastic bangle......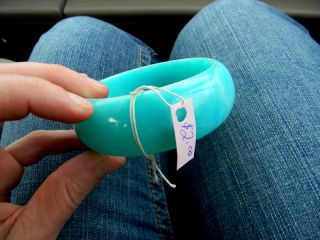 Not sure if it's bakelite; so I don't want to make that claim. It was 50% off, so it ended up being only $1.
I found this box of old velvet jewelry boxes marked FREE. I asked if I could have the whole box, and they let me take it!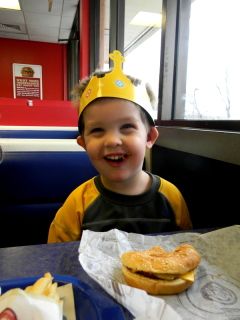 Yep, we were starving so we indulged, and took the kiddo in for some unhealthy Burger King junk food.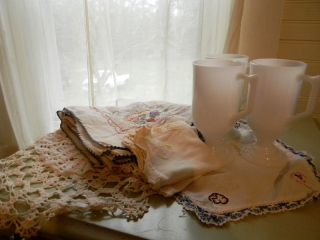 I indulged my passion for embroidered linens; and I found these really incredible tall milk glass mugs - I've never seen any like it before. Too bad there were only three.
New inventory for the shop next week. Can you tell I'm into pastels for Spring?
I also discovered an antiques mall I have never been in that will need further exploration, and soon. I think it is the biggest antiques mall I have ever been in, so far. I only skimmed through about 10% of it and saw a lot of great stuff. Some of the prices were waaaaaay out there, ($700 for a cute, but rickety 1920s whitewashed kitchen cabinet with glass in one door and the drawer missing? Seriously? For that price the hardware should be solid gold, at least) but it is worth a thorough combing through one lazy Saturday.