Here are some photos of my "kettehs" I discovered on my laptop while at work.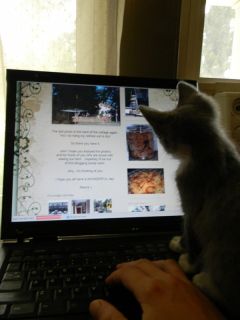 These were taken last summer when Buggs was still pretty much just a baby thing. All the cats like to sit on my lap and look at the computer with me. (Or, in this case, sit
on
the computer.) Especially if I am watching other cat/animal videos. And they love watching the screen scroll, and the cursor move around. Silly things.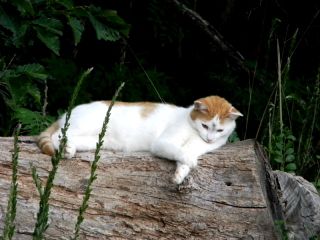 Kevin took these of Phileppe last year. He had a smudge of grease between his eyes from lurking under tractors in the equipment lot/shed. So cute.
Anyway...................
I had a day off yesterday and what do I do with it? ................. I don't take a shower, or even get dressed, hardly. I throw on some holey, frumpy old jeans and a frumpy, half shredded tee shirt.... yeah, real cute. Then I spend all day sanding, stripping, and scraping paint off my staircase.
All.Day
.
(With a few snack breaks and a dog food/ice cream run.)
Ugh
. This staircase project is turning into a
much
bigger ordeal than I originally thought. But then again, the whole darn
HOUSE
is turning into a much bigger ordeal than we originally thought! I've discovered with old home restorations, it always
looks
like one simple thing on the surface; but when you start getting down through the layers, and into the nitty gritty, it's a whole different animal. So the "Oh yay! I'm going to re-do the staircase in one week; it's gonna be
so fun
!"project turns into "Oh wait. I am going to have to take the paint off the whole thing.... not just the stair part. Oh wait. I'm going to have to sand it, too. Hold on a second. I'm going to have to re paint the entire 2 story expanse of beaded board wall now.... with a brush. Oh yeah.... and I am going to have to strip the entire floor while I'm at it........." Yeah, it's hard, yucky work, but really..... I
do
enjoy it. And if I want my old house to look completely awesome, I'm going to have to take the time to do it right... and not just try to cover everything up in
more
paint. I tried that after I moved in .... and it just screams "shortcut!!" So I'm going to do it
right,
even if the work does kick my butt! I am almost done with it; the painting part won't take as long as the removing of the old paint part. Then I can show you photos. :)
In May, I am going to have my first ever booth at a craft show! I was planning on bringing some of my hand made stuff; like my vintage silverware wind chimes, up cycled vintage sewing machine boxes, button jewelry, burlap bunting banners, etc. etc.
But just this morning the woman in charge asked me "Don't you have some kind of clothing business?" I said, "Um, yeeeah, I sell vintage clothing on line." and then she said.......
"Bring it. Bring all of it."
To which I said
"REALLY?!!!!"
And then she laughed and said "Sure!"
So.... I will be having my first "pop up shop" in May!! I am already devising ways to decorate my canopy and space there. It's going to be SO cool. I am SO excited.
*grins*
Have a great weekend, and a glorious Easter, y'all!