After all my resolve in the saving money department, I succumbed to these shoes yesterday in some department store in some mall near where I was gathering some shop inventory.
My Mom was with me, and she did nothing to help me resist! But then, my Mom always encourages me to have whatever makes me happy.
(d'awwwwwwww)
In fact, she made noise about getting
all three
colors of this shoe.... (natural and blue, as well as the black).
Geez,
Mom.
In my defense: they were the
one
thing out of the car full of purchases, that was actually for myself. The rest of the stuff I bought yesterday was for the shop and was paid for out of my business money! I
promise!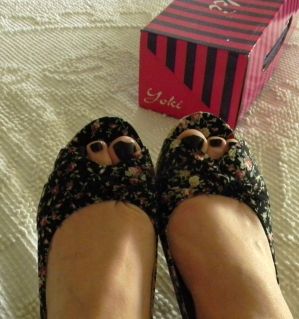 These were $17.00. On sale. I like them because they're not too high, like most wedges are.
So..... yeah.
I'll do a shop update later in the week with all the new inventory I "gathered" yesterday.