I search far and wide to bring these pretty neat items (
I think so, anyway
) to the vintage market. I am also very excited about some 50s bullet-bra, Marilyn Monroe style swimsuits I have waiting in the wings; and rompers, baby -
rompers
. I think some people can really pull off the romper trend.
I
am not one of those people. Heh.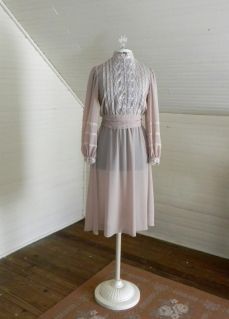 70s Victorian Revival, Gunne Sax style dress
with gorgeous poet sleeves. And Lace. And pearl buttons. And a sash. *sigh*
How cool is this
Jackie Kennedy/Joan Holloway (of Mad Men) style dress
? Check out the back:
The collar ties -
in the back
. So cute!
Boho embroidered belt. Love.
(sold)
Boho tooled leather purse.
Totally groovy 70s train case.
(Sold) My mom had a whole set of this kind of thing in the 70s. Actually, she probably still has it someplace, seeing as she never gets rid of anything.
Have a great weekend, all!