A few weeks ago I got a convo (a message via Etsy's own site generated email message system) from an Etsy Admin (A staff person at Etsy's offices in New York) stating that one of my items had been chosen by a photo shoot designer for the website Style Caster for an upcoming photo shoot. They wanted to "borrow" my item; and of course I said yes!
The story was published today, and here is how they used my blouse in one of the photos: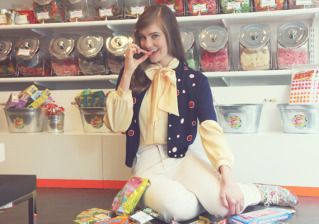 You can see the feature at
Etsy's Blog
Or you can read it directly at
Style Caster.
Unfortunately someone has reserved the blouse already, so it's sold - unless they back out; I am waiting to hear back from them. But you can look at it in
my shop.