Thrifty outfit $20 or under example #2 is kind of "boho casual", for a Saturday at home, no make up, wild hair... you know. Everything I'm wearing here I purchased last weekend while visiting my sister out of town.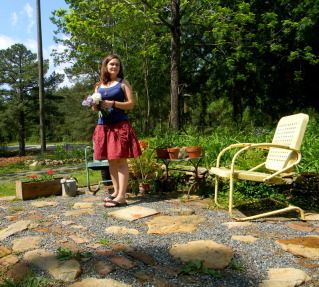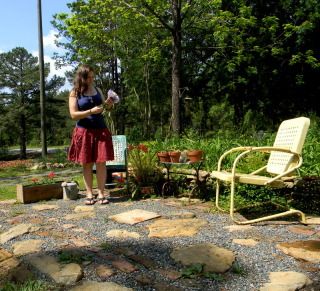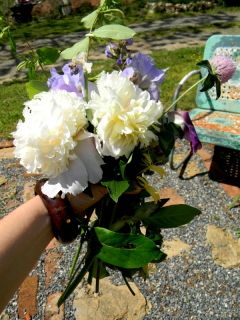 Skirt: thrifted, $4.00
Tank: H&M, on sale for $6.00
Long horse pendant necklace - Etsy (a while back, so it doesn't count for my "thrifty outfit under $20" posts, hee hee)
Wood bangle, thrifted, $2.50
Flip flops, last year's
Total: $12.50
Pictured on my patio in the side yard..... I am proud of that patio, as I built it myself, and for practically free. Kevin leveled out my spot and dug in about four inches, and I hauled in rocks and bricks from a tumbled down chimney on the farm. I arranged them in a pattern on top of landscaping fabric. Then we bought a load of pea stone and spread it all around the rocks. I wanted something that looked aged and just as old as the house; and not shiny and new. I see I need to get some weeds off from it...... I've neglected weeding this past week for sure...
The 1950s metal lawn chairs I found on Craigslist, and paid $20 each. The wrought iron table I found in a barn on the farm. The wood box seen to the left of the photo is something I dug out of the dumpster a few weeks ago.
Yes, I like junk. I like a flea market, shabby patina on everything in my gardens. I like rust and cast off disgards from other people. I am weird like that.
Happy weekend, everyone!