"Farm" doesn't have to mean "frumpy." Growing up riding horses and showing horses, my mother always insisted that a girl could still be "girly", even while mucking stalls, picking up hay bales in the hot sun, or breaking in young horses. She would say "even if you're wearing those Wranglers, don't you dare walk like a man!" To this day I strive to be "girly", even though some days find me up to my knees in mud and horse manure; or changing shear pins in the hay baler (yes! K taught me how to do it by myself, so I didn't have to wait for him to fix it for me! I'm a big girl!); or covered in dirt up to my elbows from putting in a garden or cleaning out old barns...........
I've been thinking a lot about "farm style" lately, as I go through my vintage clothes collection in preparation for opening up an Etsy shop online. I've been considering all the elements that can be part of "farm style". Here's a few that are my personal elements of "farm girl" style. (Keep in mind that I am a horsewoman, so those overtones will be part of the over all effect. Sorry, all you non-horsey people:))
Recently, I have begun to fall in love with lockets. Antique ones, new ones, big, small, you name it. I love lockets. I bought this one at a thrift shop. I stuck photos of my grandparents in it. (I adore my Grandparents.)
I also love "fairy stones". Found exclusively in Virginia on a hillside in Fairystone State Park, they are geological mysteries, and said to bring good luck. I have been wearing mine for years, and it didn't bring me any luck at all when I had falls off horses, or a car wreck, or when I backed my truck over my husband's plow and popped a new tire... yeah. I just wear it because it is cute.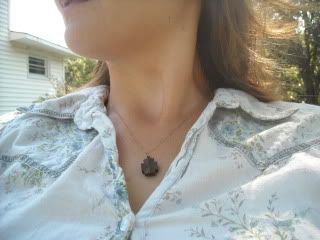 Of course, some nice, soft, worn denim always works..... I live in my jeans.
Lace.....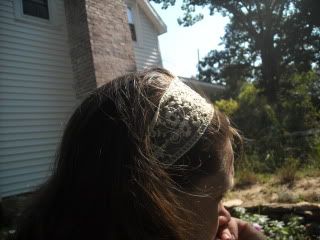 How about a vintage looking painted leather belt? It looks vintage because I wore it out. I bought it at Target, and love it to death.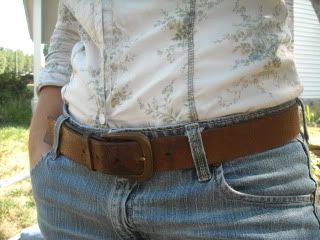 A tooled leather wallet, that was my Grandma's. I found it in her stash this week and Mom said I could have it. Yay!
Vintage pointy-toed boots; a gift from my Dad. I usually wear work boots or broke in riding boots, though.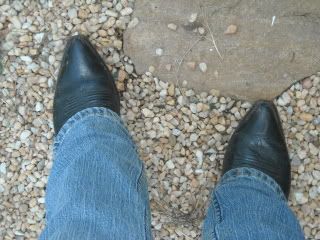 I embellished this Levi's jacket with vintage lace cuffs and a little bit peeking through at the pockets.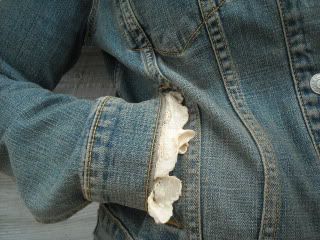 I also love soft, cotton, light floral print shirts. This is what I am "getting into" this fall.... like a soft prairie look.
Vintage.
Worn.
Soft.
Lace.
Blue.
Pale.
Calico.
Pretty...........