I ventured out to one of my fave thrift stores today; one I don't always get to as it is way out of my way on the other side of town. I came away with a few "morsels of vintage delight"! I
I usually love color in combinations.... no single colors for me. I think color is best when combined with complementing colors. For years this has been pink and green.... I just love pale pink and green of any shade. But recently I have been stoked about white and pale blue together; as well as turquoise. As luck would have it, many of my finds today were blue and white, and then I found this classic turquoise ensemble from the 1960's:
The jacket is embroidered with roses on the front; with sheer poet sleeves.
Kevin was actually taking these photos.... and he just had to get this shot of me as I hoisted mt dress form out the door. Ha, Ha, Ha.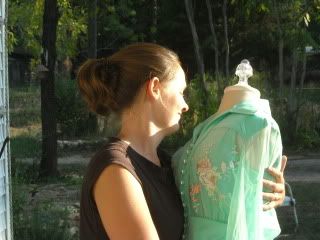 I got this sweet blue tulle skirt at my favorite feed store. WHAT?! You ask. FEED store?! Why yes. My feed store sells great equestrian and western fashions. This was marked $34, and I got it for less than $5 on sale. I paired it with a white petticoat I had in my stash. Perfect.
I also picked up this sweet blue cotton nightgown at the thrift store. It has white lace on the bodice..... *sigh* Alas it was too small to fit on my size 6-8 dressform and too see thru to model. This picture does not do it justice.
I found this old, pale blue embroidered table scarf, as well as this old plate with the blue design. I confess I also bought a pair of size 5 1/2 ballroom dancing shoes ( I wear a size 8) and a pair of black velvet pumps. I have a "thing" for black shoes, and have about a hundred pairs of them. Well, maybe less than a hundred. I also bought two pink floral tea cups and the matching sugar bowl, missing the lid, but old and cute.
Stay tuned for more "blue and white delight" later.