Sometimes I think it might have been better to just move into an already "modernized", "finished" home. Not that I had any choice, but if I DID......
Other times I love restoring and remodeling because I get to make it "our own".
I dunno. I just have a love/hate thing going on with this Old House.
I have been thinking a lot about the concept of "interior design." People throw that phrase around a lot. I used to think "interior design" was paint, wallpaper, and decorating a space.
Ha! Ha, ha ha. Ha.
THAT is "re decorating".
"Interior Design" is gutting a room down to the wiring and insulation and starting all over again with a totally new concept in mind. Being married to a man who has built several homes, and remodeled many places such as
Berry Hill Estate
(He built their Blackberry Spa) and
Cooper's Landing B&B
(He did their 2-storey remodel, I have discovered all that is involved with "interior design."
I am living through interior design right now. I am not just putting paint on my walls, I am deciding where to put walls or remove them, as the case may be.
I am not just deciding about carpet colors, I am stripping new carpet out and making decisions about stripping, sanding, varnish, and polyurethane.
It is exhausting, mentally and physically.
A note before I show the pics of my dining room before and after:
Disclaimer:
The views expressed in this post are purely my opinion and do not apply to you reader's personal choices in home decorating. BUT.
I hate wall to wall carpet. You should see all the crud I found underneath the carpets when I pulled them up. And they're relatively new, also! The mold and dust in the padding was gross. And no wonder people have allergies.
I hate wall paper. For the most part. I decided I hated it when I ripped it out, piece by piece, shred by shred until it was gone. UGH! Now if I had a great big Victorian place with bigger rooms, I might consider it. Might. And do you know, the Victorians wallpapered their ceilings?!
OK now for pics.
Before: He-LOO particle board and 1980's paneling on my 1890's rafters! Looked like a basement in there!
There is is, all ripped out and piled on the floor.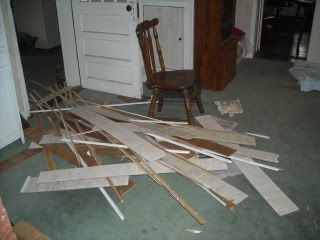 Be gone, carpet! Yay!
See the crud and mold on the carpet pad? And this carpet is about four years old. And the house has hardly been lived in for those four years.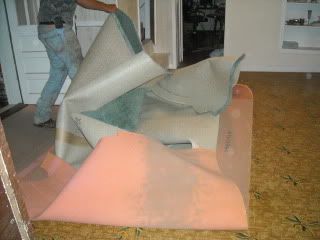 Ripping and tearing out took two days. Then I painted the revealed original rafters and ceiling. I used plain old drywall primer, as it looks like whitewash and appropriately old-fashioned.
I explained to my sister that the point with this old house is not to make it look like something it isn't - a modern house - but to make it look like the 1920's-30's, only freshened, and improved. Me likey.
Ok, after:
The recessed china shelf used to be the front window of the 1890's cabin. I would like to fit this with doors one day.
All I did was paint the 1980's paneling, for now. We plan on drywalling the walls next year, when we expose the opposite log walls.
I used a flat paint. I thought it was going to be just a little darker than it is, though. Warmer. Browner.
Note to self: always go with the shade darker than you want. Once it gets on the walls, it appears lighter......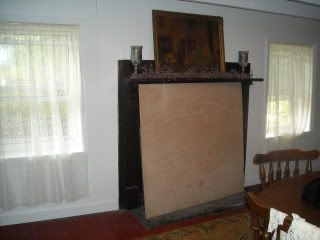 Fireplace. The board in front is protecting a beveled mirror in front of the fire place. Until I decide what to do with it.
My new, bright ceiling. No more basement look! Hooray!
I know these pics are not the best, but it was rainy and dark today and I took them anyway. (See Splat on the table? She always seems to find her way into my photos! I promise, I dind't plant her there, she was just there! I think I'll write a Children's book: "Where is Splat? Can you find her? Oh! Look! THERE she is! Where is she now? Under the tree? No. under the covers? No. On the dining room table? THERE she is! :) )
Also, under the carpet, we discovered a piece of old 1950's linoleum made to look like a rug. We decided to leave it for the time being, until we refinish the floors throughout the whole house next Spring.
And these floors? They're not soft pine, they're rare black pine, which is extremely hard.
It took me a whole day just to remove all the staples, tacks, nails, and other fasteners after the carpet was out. A few were so fast in the floor that Kevin had to come in and struggle with them; I could not budge them.
Now all I need is a vintage or vintage inspired lighting fixture; like a smallish crystal beaded chandelier.
Oh and the vintage lace curtains? $2 at the Salvation Army. Uh-huh.
Ok, enough.
Ya'll come back now, 'hear?