2009 was an interesting year. This will be the first of a few photo recaps I have planned for this New Year's Eve and Day.
Some bad stuff happened in 2009 - like Kevin loosing his job at the Bio Fuel plant.
Loosing my dog Seb was a big blot on the year, as well as having a horse put down in the spring. But the year had it's blessings and good times as well.
Noelle Graduated in June.
My ninth and tenth nephews, Owen Pennell, and Charles Xavier Joubert, were born. Charile's Dad, my step brother Andre, retired from a career in the Navy also.
(Hey - who gave that dirty, sweaty, crazy haired farmer that sweet baby? :))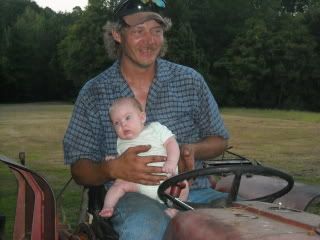 I rode my OTTTB Major in his first eventing clinic, where we placed 6th out of ten riders, and I was sooooooo proud of my "little" boy.

In true farm girl fashion, I grew, canned, dried, preserved, froze, and of course, ate many of my own veggies I raised myself. I also incubated eggs, and brooded my own flock of laying hens and frying roosters.
We all worked endless hard hours on moving, building, and otherwise starting my brother Eli's new business. Even I lent my 2 hands to the construction effort.
Visiting my BFFs in Harrisonburg was such a blast
I got a new pet - our little "catten", Phileppe
And I lost an old friend, my dog Seb.
There was also Alana getting hit by the car in the early spring. That was not so good, but it could have been worse.
I started my own business on Etsy, and am getting rid of a lot of stash in the process.
We got further along with the remodeling as well. That's a plus.
I started blogging. I got on Facebook after my long held stubborn refusal - but I did it for business reasons. (Yeah, right.) I learned more about computers this year, and started taking better photos.
I am looking forward to 2010; I just have a good feeling about it. Maybe it's that cliche that "It can't get much worse, so it's got to get better." Or maybe my feelings are right on the mark. or maybe it is the fact that it's an election year. And that is all I have to say about THAT.
Whatever the case, I think I am pretty ready for whatever 2010 has in store for me.
Check out my list of goals for the year in my sidebar. Did I already mention that? Oh well.