I am not calling this the official "After" post, as it is not completely done yet, so to me, that is not really and "after" after; if you know what I mean.......
Yeeeeah. So anyway, After a summer of crops and hay fields and building buildings and gardening and training horses, and all of those other things we do, Kevin and my brother Eli attacked the kitchen the week before Thanksgiving. Kevin had promised -
promised
- that it would be done by Thanksgiving, but I knew better. That was ok. It's the
thought
that counts.
This is the log wall we exposed. We decided on a cathedral ceiling in order to keep the entire wall exposed. Lexy and I scrubbed all the paint and whitewash off the logs; and later I will satin the logs with a walnut wash to bring out their brilliance.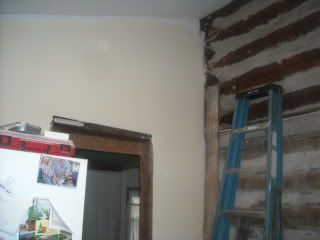 I painted the walls in a color called "yellow ribbon" that I had bought thinking it would match a color I was using upstairs; but it was too yellow. So I just said, "Well, I guess the kitchen is going to be kind of yellow!"
Which is fine; as my vintage 1920's - 50's decor is all reds, blues, turquoise, etc. etc.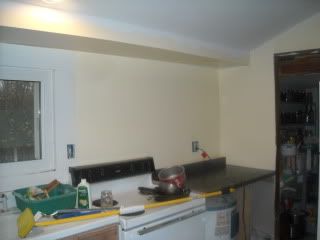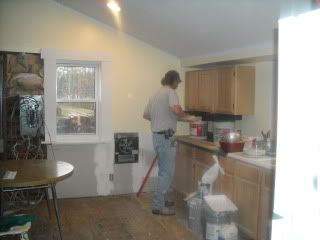 We also decided to rip out the last remaining carpet in the porch, the foam padding underneath, the plywood.... and we found the original porch floor beneath; which we are debating whether to paint and leave, or install hardwood floors identical to what will be in the kitchen.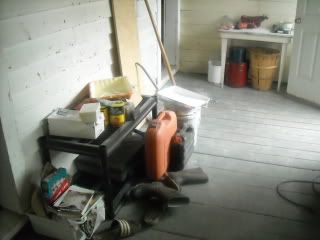 I chose to not post the pictures of the extreme mess I referred to in a recent post about housekeeping. Too embarrassing. But rest assured, the mess was no simple, everyday, dainty sweep- and- dust- a -little- bit kind of mess. This was shop vac mess, and we "shop vaced" twice ad it still looked like nothing had been done - but anyway.
All we have left to do is complete the electric 100-volt to 200-volt switchover, touch up walls and logs, stain cabinets, paint trim, and my favorite - a new floor. Which I am planning on being wood - wide, knotty pine planks - aged, stained, and varnished, of course.
The idea is to not have the kitchen look like a new, modern one - but age everything so it looks old, like the house is; while getting updates it needs.
It will truly be a farmhouse kitchen when we're done with it.