I bought a "Caterpillar" table at the Salvation Army yesterday; and turned it into a Butterfly. I love giving "old stuff" a new life! (Incidentally, on the same trip to "Sallie's", I bought a chenille bedspread for our bed, another 1940's, very unusual, baseball player design chenille bed spread - and a tulle bed canopy, just like the one I was looking at buying from the Victorian Trading Co. - for $3.50. *goofy grin* I will use it in my guest room, which is geared toward my girly nieces.)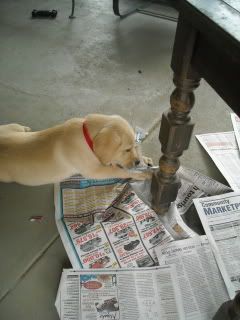 "Dodge. Leave it! That is Mommy's project area."
("Leave it" is the command we use to tell Dodge to leave whatever he is doing and pay attention. He is learning it very well! And it is better than saying "NO" all the time.)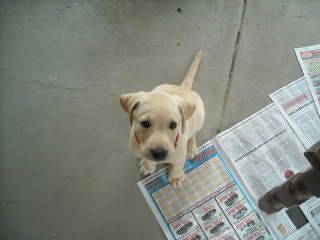 "I sowwy, Mommy."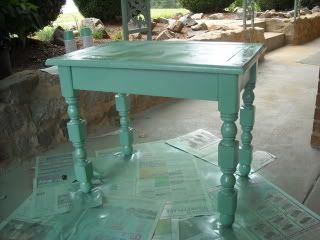 I love the Krylon spray paint. I am so glad I decided against brushing the paint on.
It goes on smooth and evenly, with very little dripping unless you get too close with the can.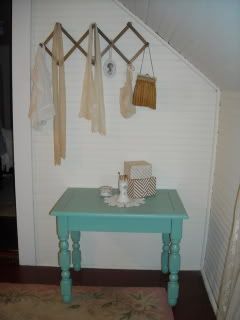 Table: $9.00
Paint: $2.97 each
Total: @$15.00

I dropped by to see my friend who owns an antique shop and she spied the piece and said, "That is a nice table". So I told her about it, and she just gave me this look. A table like this in her shop would be marked about $50 - $60 dollars.
A few tips on DIY painted furniture projects:
1. It doesn't always have to be white. For this table project, I used Krylon paint in "Jade". Which is like a turquoise-y color - my current favorite accent color!
2. Start with a good piece. If it is not sturdy, is falling apart, or is just trashy all together, don't even waste money putting nice paint on it. For some items, you may need to prime the piece - for instance, last summer, I bought a vintage "spindle" bed and the first coats of white paint looked pink because of the varnish bleeding through. I used a Killz primer and that did the trick.
3. Use good paint. I now swear by the Krylon spray paint! I love it! It is faster, smoother, has no brush strokes in it when you're done, no drips, drys fast, no mess.... so do yourself a favor and buy good paint - it's SO worth the few extra dollars.
4. Don't worry about perfection. On this piece, there was a dent in the top; and I left it; I didn't even bother to sand it away. I felt that it added to the vintage "pantita" of the piece. There were also a few spots on the legs where the dark finish showed through in the cracks and crevasses, and I left that as well. Again; it adds to the illusion that the table is an antique. However, if you are after a perfect look, get out the sandpaper and knock yourself out. :)
5. Keep your puppy away from all painting projects..............