I always said I was born in the wrong era.... that I had an old-fashioned soul and was out of place in the modern world.
I've also been known to lament in my journal that "I feel like the only pair of boots in a high-heels world".
I separate my fashion era faves into 2 categories: "Antique" and "Vintage".
Antique being pre-1920s; and Vintage being 1920s and after. I don't know if this is accurate from a professional standpoint, but personally, that's how I look at it.
My favorite "antique" era is pre-WW1; right around 1910 - 1912. My wedding gown was a repro from his era. And the movie "Titanic" is a great example of the fabulous fashions from this time.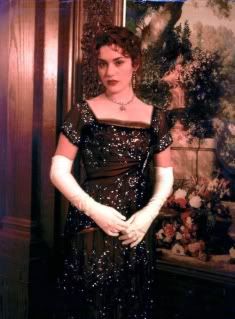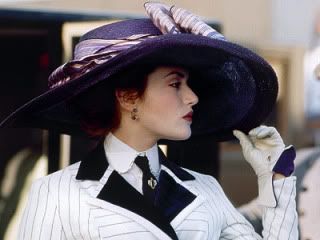 And from the vintage category, my favorite is the 1930's - 40's.
This photo is from the movie "Australia" which I LOVE and I adore every single item of clothing Nicole Kidman wears in the film. And Hugh Jackman isn't bad too look at, either. And the horses -
Oh!
... the
horses
.
Anyway........
A fashion era I confess I despise is the antebellum era; the mid to late 1800's.
Hoopskirts
are miserable contraptions and I hate them. And I know; because I own one, and I have worn it on many occasions for contra dancing events, and I hated it. My hoop skirt is now at my mother's house in her walk in closet; it is the only thing I did not take with me when I moved away.
What fashion eras are your faves, and why?