As I have mentioned before, one of my favorite things to do is go to civic, community fund raisers and spend money. Churches, Women's Clubs, Preservation/Historical Societies, Etc. put on the biggest, best food/tag sale events.
So when one of our local fire departments held a "Community Yard Sale" this Saturday, I was
SO
there!
Mom and I packed up some of our junk in my truck and paid for our spot on the grass behind the fire department.
It was a chilly, cloudy day, and threatened to drizzle, but there were lots of people there with lots of good stuff to buy.
I made a grand total of $.75 selling my own items, and
spent
$25.00, not including what I spent later on food!
I bought this cute little antique medicine cabinet/shelf thingy. It closes with a skeleton lock, but the key is missing.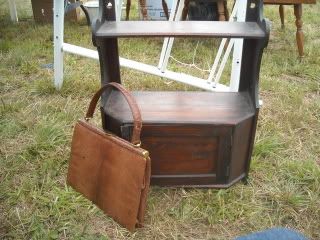 Also in the photo is a vintage 1950's genuine snake skin purse. The label inside indicates it was custom made by a designer in Hong Kong. I am still in the process of researching it, to find out it's worth. A find like that is rare; and I plan on keeping it for my personal collection.
I also bought these sweet canisters for $.50. Not really in the color pallet in my home, but still pretty darned cute!
I also bought several pieces of rose themed china for pennies each; but I didn't take a photo.
The fire department sounded off the sirens at 9:00 am and a moment of silence was observed in remembrance of those who died in the Sept. 11 terrorist attack.
Later, I bought some yummy, greasy, fattening hot dogs and ribbon fries.
When I said "I would like one of those fries," they picked up a potato, and stuck it in this little device with a crank handle, which shredded the potato into ribbons. Then it went in to the vat of frying oil (mmmmmm) and came out all golden brown, looking like this:
Classic fair "fare". Heheheheh They were so crispy and delicious!
The rain came in at 11:00 am and we had to pack up and leave; but finding that purse was worth it.