I have 5 Princesses (nieces), and some of them come and visit me from time to time; and sometimes they stay the night.
Abigail Grace, Alexis Monet, Elianna Amalie, Alana Faith, and Emilie Kate need somewhere to lay their princess heads when they come; so an upstairs chamber in my house is designated for them. (Although, for the record, Elianna has never stayed the night with me to date. She lives in Illinois, and they don't get down here much.) I actually have more nieces than that, on my husband's side of the family, I have Aloh, Melinda, Katelyn, Brianna, and Shawnee.... but they're all grown-up ladies; or very nearly grown up ladies. :)
This is the way the room looked earlier today: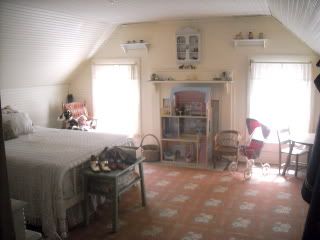 I have been looking at romantic bed canopies and had decided on the one in the Victorian Trading Co. Catalog which is something like $30-$40 dollars. OR I was going to try making one - har, har.
But last week I found one at Sallie's (Code for Salvation Army Store - which I love to shop, because the money I spend goes to an excellent cause, and because the ladies at the store are now my buddies) for a mere $3.50!
So I grabbed a package of these: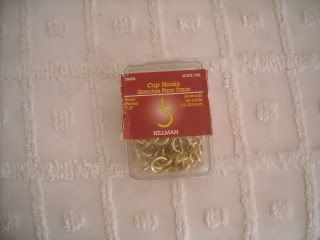 Made a pilot hole, got the hook in my ceiling, did a little shifting of the furniture, and "walla"!! Now my Princess chamber looks like this:
And just to give a better feel of the room, there is this:
The room doubles as a stashing spot for part of my vintage collection/inventory.
We have no closets in this house;
I guess they didn't have much use for closets in the 20s when it was built. We're going to build closets ourselves; but we haven't gotten around to it yet - thus the clothing racks. Yuk.
Oh yeah, and lest you think the room is 100% perfect, Princesses need amusements, and here is what I have on the other side of the room in the "amusement" department: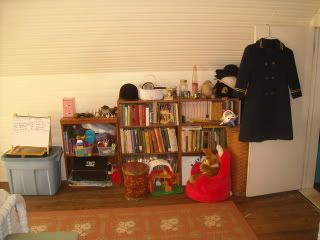 One of the most adorable features of this room is it's child-sized door. The door opens at chin-height on me. Adults have to duck to get in.... making it perfect for kids.
I also enjoy collecting child-sized furniture, some of which you can see in the photos.
I only wish I had a third bedroom for the cowboys in my life: Dylan, Ethan, and Brendan, Charlie, and Lawrence. I would do it all up in horse/western/cowboy theme. :)
Happy Collecting, everyone!