Nope. I am
not
pregnant.
Starting last month, my Etsy shop
Carolina Roses
became a financial sponsor of L*PIDA, which is an organization devoted to equipping women in Nepal who have been the victim of human (sex) trafficking with the means to support themselves through sewing and crafting. Starting in November, a portion of every purchase from my shop will go to help stop human trafficking in Nepal.
I woke up at about 4:30 on Thanksgiving morning with this strong feeling that this was what I was supposed to do. I was wide awake with this thought so I got out of bed and wrote down some questions for my sister Noelle, who is very involved in the project, as well as other fund raising ideas as the inspiration flowed. (More on those other ideas later.)
I had heard about the project through my sister Noelle; but it wasn't till that morning that I thought of sponsoring them. I had such a strong feeling about it, I got out of bed and wrote down some things down as the ideas and inspiration flowed.
This is a very serious issue and I have caught a vision to help and be involved in helping these poor girls and women. If you care about the plight of sex trafficked girls and women, please.... please....please give this a read.
The following is a "blogger-view" I did with my sister, Noelle.
Tell about yourself.
I'm a senior at Regent University I am majoring in government with a concentration in international relations and foreign policy. I'm very interested in issues of poverty and injustice. I am involved in several campus organizations that deal with human trafficking and homelessness. I have also gone on two urban outreach trips to New York City and L.A. I love to read novels and non-fiction — probably my favorite pass-time.
Tell us more about L*PIDA.

L*PIDA (L*PIDA is a wordplay on "elpida", the Greek phonetic pronunciation of "hope")is an organization that was started by Kim Denerstein—a fellow student—as a marketing project for one of her classes. It grew into a project under the Regent University chapter of Students In Free Enterprise (SIFE). Our mission: "L*PIDA is a global endeavor striving to bring hope to the poor by enabling international artisans to gain access to new markets thereby encouraging economic growth". Our first project is working in partnership with the Nepali Rescue Project.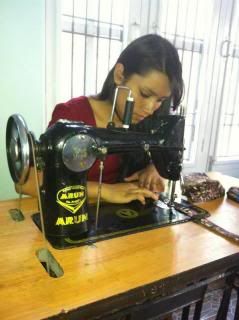 Explain how the money raised by L*PIDA will be utilized by the women.
L*PIDA raises money to disperse micro-loans to women that have been rescued from human trafficking. The organization we work with, K.I.N. rescues women who are about to be taken across the border into India—mostly to be sold into brothels. K.I.N takes these women through a transition program that includes a skills training segment. Some of the women are trained as seamstresses. At this point, we use much of our funds to help some of these women set up sewing shops. We are also
moving into another phase where we are providing an online market for the products that these women create.

How did you become involved with L*PIDA?
When I was in L.A. for an urban outreach program this past spring break, I met Hannah Mathew. We started talking about the issue of human trafficking and she told me about L*PIDA and the Nepali Rescue Project. I practically begged her to set me up with Kim for a meeting.


How much of a problem is human/sex trafficking on an international level?

Human trafficking is the fastest growing crime in the world; it is currently the third largest organized crime ($32 billion per year)—behind drugs and firearms. Approximately 27 million men, women, and children are modern day slaves. Of these 27 million, 2 million children are trafficked for the purpose of sexual exploitation. In other words, there are more slaves in the world today than ever before. Human trafficking is one of the biggest injustices we face today.


Is there human (sex) trafficking in the U.S. also?

Of those who are aware of human trafficking, many see it as a problem in "other countries". However, there is a great deal of human trafficking right here is America. Anywhere from 100,000 to 300,000 underage girls are being sold for sex in America. 50,000 women and children are trafficked into the U.S. every year, and of these, the vast majority is sold into the sex industry.
What ways can I follow/support L*PIDA?
You can "like" us on Facebook and follow us on twitter. Also, check out our blog.We will also have a website and products coming very soon! As always, you can support us financially. You can send us a check to the following address:

Regent University

1000 Regent University Drive

Virginia Beach VA, 23464

Write the check out to Regent University and attach a note that says "Nepali Rescue Project".

And of course, a purchase from Carolina Roses on Etsy supports us as well.

____________________________________________________
This video by the Nepali Rescue Project sheds a lot of light into the human trafficking situation in Nepal and India.
If this information has touched your heart, please share it among your friends on Facebook, blogs, Twitter, Church and civic groups, etc.
Also, please stay tuned for a fun giveaway to help kick off the effort, just in time for Christmas!