This year, I made rag ball ornaments, burlap ornaments, and crochet snowflakes to my "homespun", old-fashioned themed Christmas tree.
I showed how to make the rag ball ornaments in
this post
. The ones I made for the tree, however, I made with the 3 inch styrofoam balls instead of the 4 inch size. Plus I did them in a dark red and tan small check fabric.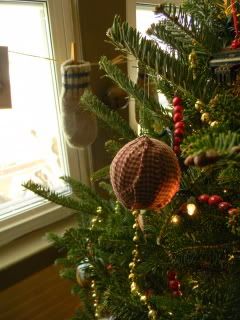 The crochet lace snowflakes look like this: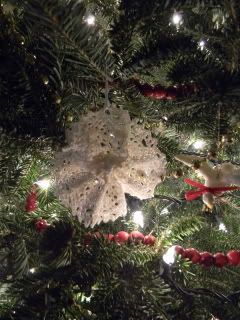 (Cruddy photo; sorry.)
I cut approx. 5 inch lengths of 2 inch wide ecru colored crochet lace trim....
.... and sewed the ends together using a whip stitch to secure all the little ends. Then I made loose, wide stitches (about 1/2 inch) all around the bottom part of the lace, and gave it a gentle pull to gather it up into a round shape, knotting off the thread to hold it in place. I added a vintage shell shank button and a loop of cotton thread for hanging. They take less than 5 minutes each. And they look great on my tree; I love them!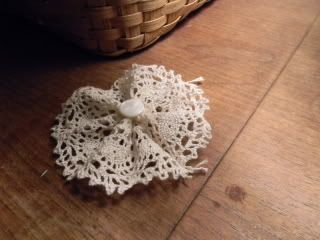 I haven't gotten any pics of the burlap ornaments and how I made those yet; sorry.
I love the way the textiles look on the tree - burlap, lace, and rag strips alongside my rustic, nature-themed ornaments.