Well, on the street where I
lived
, actually. I grew up in a small, rural, historical town in North Carolina about 8 miles from where I live now on a farm in Virginia. Milton is an adorable little hamlet set on a hill overlooking the Dan River for which nearby Danville, VA. is named.
I was born a North Carolina girl and I will always be a North Carolina girl; and I will always have a soft spot in my heart for my home in Caswell County, and my hometown of Milton.
I ran for the office of Town Commissioner in the last municipal elections; and lost. Too young and inexperienced, I guess. Although I did have quite a group of supporters who voted for me.
Even though I do not live there anymore, I am still a board member of the Milton Historic Preservation and Beautification Society there.
This will be a 2-part post, as there are faaaaar too many pictures for one post. This leg of the "tour" will cover some of the homes in the township. So, let the tour begin!
We members of the Preservation and Beautification sold countless hot dogs, countless pounds of NC BBQ, Thousands of raffle tickets, and lots of baked goods to raise the money to build this rock sign that greets you upon entering our town. As you can see, the town was incorporated in 1796 - in the Colonial Era. Few houses from that time remain. Most you will see are Antebellum and Victorian.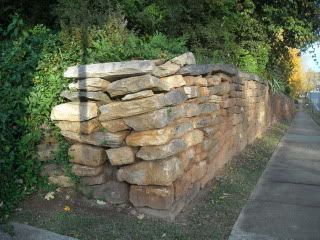 This stone wall is from then, however. It is preserved and maintained by citizens of the town, and is a huge source of pride.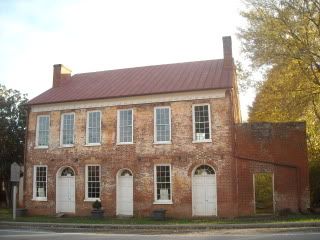 This is the main tourist attraction in Milton: the Thomas Day house. Thomas Day was a free black cabinet and furniture maker in during the time of the War Between the States. This building burned in 1989, when I was 8 years old. I remember watching as multiple fire departments tried to save the historical structure and failed; the only thing they could do was try to save the surrounding historical homes. They succeeded in that. Now it is slowly being restored and is a museum downstairs.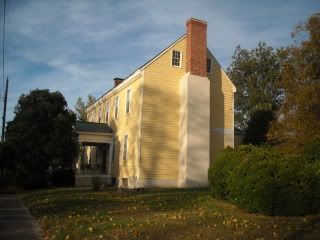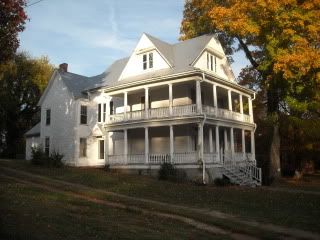 My parents looked at buying/renting this house a few years ago. It cost too much to heat..... I wonder why?....
My friend Sally lives here. The house is three stories and let's see.... 13 rooms, 4 bathrooms, sunroom, etc. etc.... I used to help her clean it. That is a full time job! It was built by her Grandfather in 1917.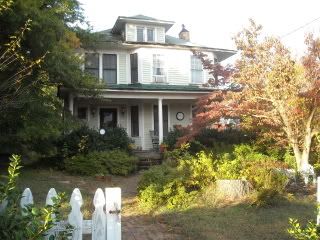 This home was ordered out of the Sears Catalog in the early 1900's. And yes, that is a white picket fence and meandering brick pathway leading up to the front door...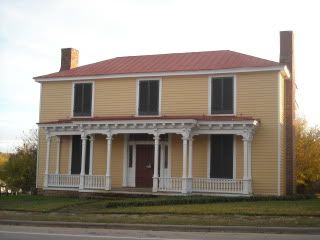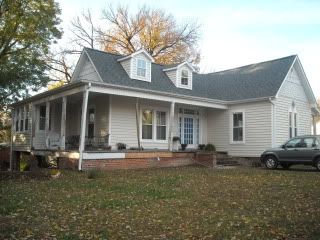 These two places are under renovations. It makes me happy when people love those old places and fix them up....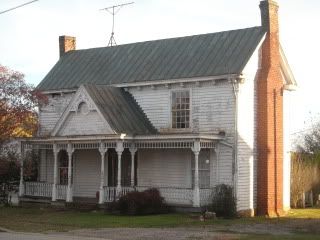 Afew weeks ago, one lovely old place burned down.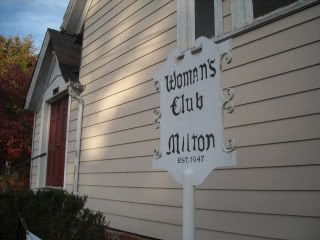 The Women's Club of Milton.... these ladies brought in the first telephones to the town - but not till the early 1950's.
Next time I will show all the antique stores and little shops. There are quite a few outlying Grand old homes, also. But that is for another day.
Y'all come back now, hear?