While I was "off line" I also did my regular thrifting stops and a few yard sales last weekend as well. One of my thrift shop treasures was a dress I passed over on the rack, and then had a brainstorm and went back to get. It was a dated 1990's era dress, but it's details really caught my eye. The print is a tiny flower sprig on a navy background. The fabric feels rayon-like; although I doubt it is 100% rayon; it's probably a poly blend.
The dress was clean, and in nice shape; two main things to look for in items from the thrift. What caught my eye was the neckline, and ties on the sleeves, the tie on the front, the gathered fabric in the shoulders, and the classic 1940s era "lines". I bought the dress. Here it is, after I cut off 4 inches off the bottom (it was almost ankle length; and in the 1940s hems were shorter), removed the bottom button to the space on top where one was missing, and hemmed it another 1 - 2 inches.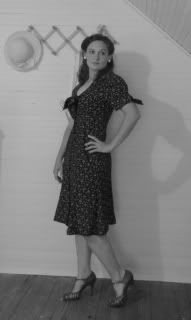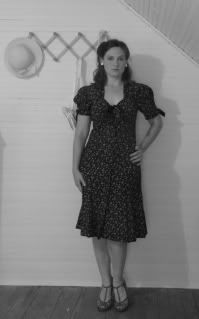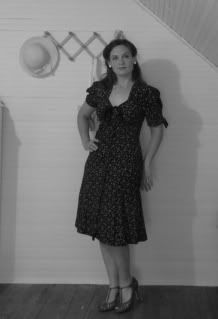 Shoulder detail - one of my fave features: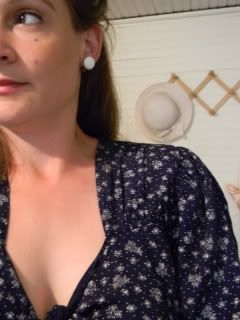 It looks similar to this pattern; except for without the narrow belt and with the addition of the ties: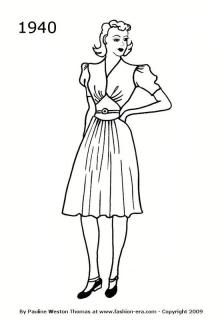 (From the Fashion Era website)
On a stop in another thrift shop, I picked up the shoes seen in the above photos: brand - new, still with the $70 price tag, Steve Madden, candy apple red, t-strap heels
in my size
. For only $7.00. When I saw those babies, I knew they were coming home to live in my closet, and I practically knocked over another woman to get to them. (
Just kidding. There was another woman inching close to them, but I didn't knock her over. I may have elbowed in a little bit, but that's it.
)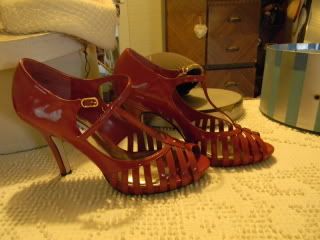 I picked up this nifty old lawn mower at a yard sale; only to get it home and have Kevin tell me it didn't work... something about bearings in the wheels. Oh well. It can be salvage decor in my gardens.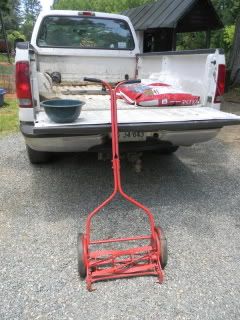 And among other misc. stuff not shown from the yard sale-ing, these nifty old sunnies. What a hoot.