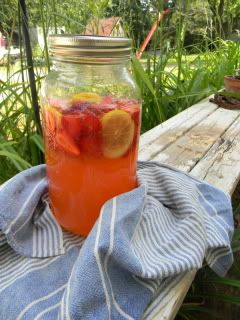 Oh yes - it's strawberry time in my neck of the woods. Last week, mom and I went to a you-pick place and loaded up on delicious juicy-ness.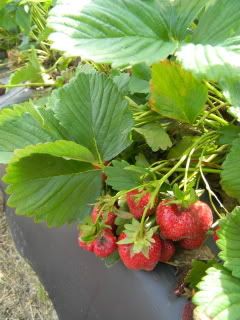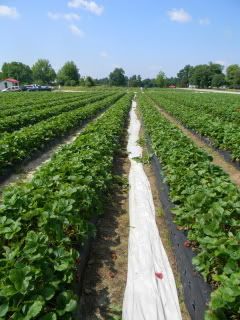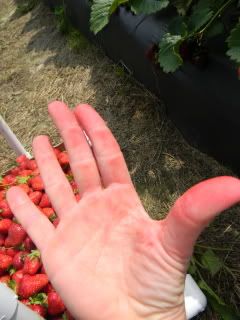 I made some strawberry lemonade - one of my all-time favorites.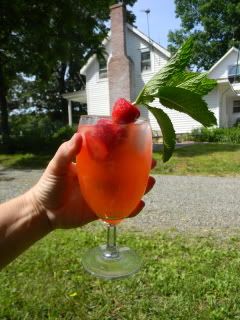 How to make it:
1 C sugar
1 C water
1 C sliced strawberries
7 lemons
Bring sugar and water to a boil, remove from heat and cool. Slice berries. Juice 6 of the lemons. Place the berries and lemons in a tall pitcher, jar or other large glass container. Add sugar water mixture. Mix in 4 cups water. Slice 1 lemon thinly, and add to the lemonade. Serve in glasses of ice. Garnish idea: Skewer whole capped strawberries on mint stems with only the top leaves left on. (See pic.) Keep refrigerated. Mmmm!
We also ate strawberry shortcake on more than one occasion, and I made strawberry shortcake sandwich cookies: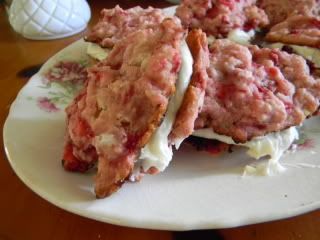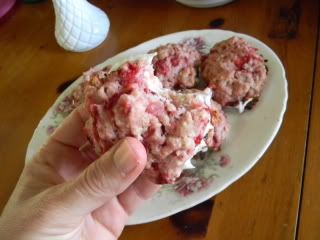 I got the cookie recipe from a Martha Stewart Magazine, and I just sandwich them with cream cheese frosting:
2 C diced strawberries
1 tsp. lemon juice
1 Tbsp. plus 1/2 cup sugar
2 C all purpose flour
1/2 tsp. salt
2 tsp. baking soda
6 Tbsp. cold butter, cut into small pieces
2/3 cup heavy cream
Preheat oven to 375. Combine berries, 1 Tbsp. sugar, and lemon juice in a bowl and set aside. Whisk together flour, salt, baking powder, and 1/2 cup sugar in a large bowl. Cut in butter with a pastry blender until mixture resembles coarse crumbs. Stir in cream until dough begins to come together, then add the strawberries. Drop onto parchment lined baking sheets and bake 15 - 20 min. until golden brown. Cool. Spread underside of one cookie with cream cheese frosting and top with another cookie.
What kinds of things do you make with strawberries?