Two posts in one day..... because I am so excited about finally getting to actually
see
progress and
see
results from all my recent, very hard, patient, and painstaking work in my "office" room. I am only showing one corner of the room, however - as the other side is not "put together" yet, as I am waiting (
always waiting around for something or another
) on some slipcovers, curtains, etc. for my official "after" photos there.
Okay, here is before: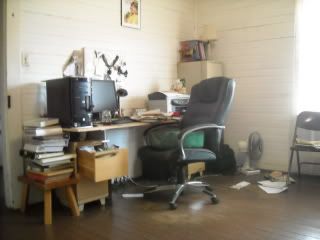 Oh dear. We improvised a desk from 1960s bedside tables and a board. What a fright. I was picky about what I wanted for a desk and didn't want to buy a cheap Wally World computer cabinet desk. I suffered with this ....
thing
..... for over a year. But, I started my business here - so, not all bad. :)
When the weather started to stay consistently warm this spring, I dove into painting. Now, this is not your "
get it done in a jiffy
" roll job paining. The rooms in my house are 1920s pine beaded board, and every inch has to be brushed on. With primer. And then two coats of wall paint have to be brushed on. This, after all the loose paint has been scraped and sanded off. This one room took me a week of scraping, sanding, priming and painting almost every single day; all day - and sometimes at night.
Oh, and the old "desk" got tossed when I found, and bought, an old handmade pine farm table on Craigslist for $25.
After: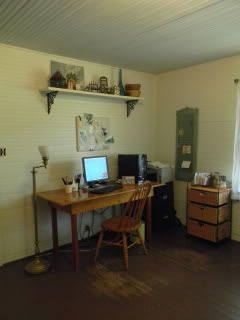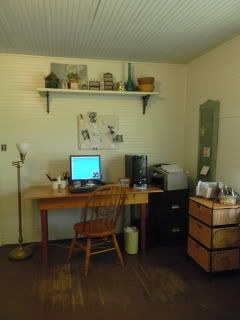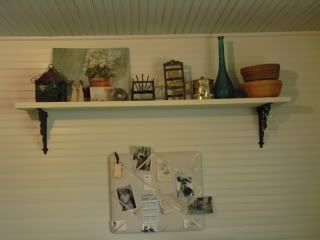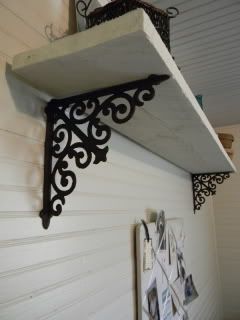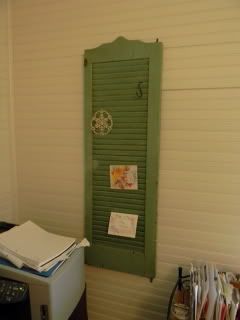 The one thing I still don't like is my old brown metal filing cabinet that my printer sits on. I am going to look for an oak one, and maybe one a bit taller also.
I like to use the odds and ends that I collect in my decor, and I think one good way to do that is on wall shelves. I bought some wrought iron, "scrolly", rustic looking shelf brackets at Hobby Lobby when they were 50% off. Both cost me less than $10. While I really like the "shabby cottage" look, I like to mix it with rustic elements and go easy on the frilly, Victorian girly aspect of "shabby cottage". So, Kevin cut me a length of rough-sawn oak board from the barn, and a painted it with some leftover flat off white paint; so it looks white washed and "old". I had hung two vintage prints on either side of the message board thing, and it looked crammed and cluttered on the wall so I took them down right away. No cluttered walls for me!
I found the window shutter in one of our barns, already painted a fantastic vintage green color. I scrubbed it, clear coated it, put some picture hanging brackets on the back, and hung it on the small corner wall. I can now stick all kinds of trinkets on it.
As you can probably gather from this one corner, my color theme in the office is blues and greens. The floor, as you can see, needs attention; but we're going to strip and sand all the floors in one weekend later in the summer after the painting is all done. To do the floors,
all
the furniture has to be moved out; so we're going to have to empty the front rooms of our house for two or three days to get it done
right
. Then, they'll be a lovely light pine, and we're going to shellac the hack out of them.
A few thoughts on walls:
After moving in here, I confess I was at a loss as to how to handle decorating the huge expanse of wall space I had in my downstairs rooms. The rooms are square, with double windows facing the street on only one side, with a fire place on the side at right angles to the window walls. The ceilings are high, so the walls are tall.
I like neutral colored walls and color in my furniture and textiles; so what I had is tall, bare expanses of bone-colored walls. And I despise clutter; I like a clean wall without busyness. I don't even like hanging framed photographs on my walls. I am weird and non-traditional like that. And I don't want to clutter them up with rows of framed prints, sconces, mirrors, and the like.
I have thought about it a lot and I decided the best way for me to deal with my large walls is by hanging "objects" on the walls. Like the window shutter. Also, shelves, for displaying my collections. So now when I yard sale, thrift, auction and antique shop, I look at objects for their "hanging on walls" possibilities. Also, I think another way I am going to solve my empty amounts of wall space is by buying some taller pieces of furniture.
So this is where I conduct my Etsy business every day. And blog, and keep up with friends on face book, and shop eBay and watch costume dramas on Netflix. I am excited about showing the rest of the room as soon as I can! Finally - some progress I can see and touch.