I got really into my old jars last week; and playing around with different ways to use them for floral display. What I love about the old jars, I think, is the basic simplicity of the look; with a simple stem or two of a flower. It's so simple and yet so elegant.... and sweet. I never look at a jar as just another thing to toss anymore.
You don't have to have a huge bunch of a bunch of different kinds of flowers to make a statement. Sometimes, a small flower in a simple vessel makes a big impact, too.
I didn't think up this project on my own; I have seen old bottles and jars fitted with wire for hanging before in magazines like Southern Living, Country Living, Victoria, Country Home, etc. as well as a very nifty, very inspiring old bottle and wire mobile on the
Magnolia Pearl website
(photo number 5 in this collage from her wedding, featured in Romantic Homes).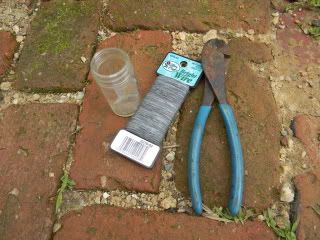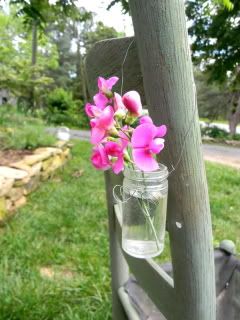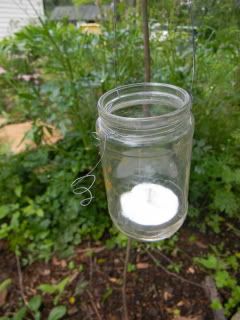 Ideally, I'd like the wire to be rusty and old looking. All I have to do is leave these out in the rain once or twice for that.