My main weekend activity consisted of baking and constructing this cake for my friend's wedding:
Sorry, I didn't take photos of the entire process; but I assure you: I did make it. With great help from my sister, Naomi.All of the icing is coffee flavored. The bottom tier is chocolate, with Kahlua for flavoring. The next tier is white cake with raspberry jam filling. After that, yellow layers with butterscotch filling; and the top is a repeat of the bottom. The flavors were all my friend Crystal's invention; and everyone said the cake tasted wonderful! I have no idea how it tasted; I was in no mood to eat any of it after 2 days of baking and assembling it. I had done some taste-test trial runs with the recipes before, and they were great; so I think it was okay.
Anyway... the wedding was held at a historic Antebellum home in my hometown, and the reception was held at the home of the parents of the bride.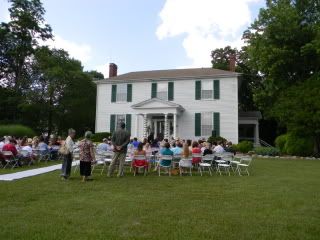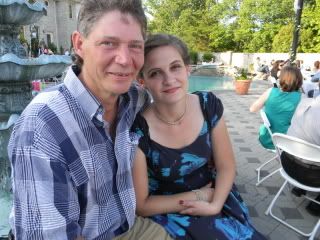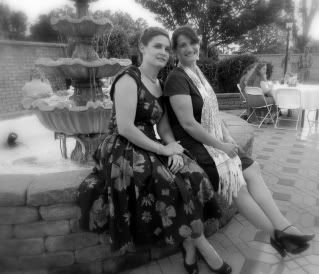 I wore the dress from
this post
; which was expertly altered by my Mom. My look was entirely 1950s; except for I had no hat to match the dress. :(
My weekend also included my nephew's 2nd birthday party, and attending the Memorial Day Ceremony at the Historic Caswell County, NC Courthouse on Monday; following some morning thrifting and yard sale-ing. We also went and saw the movie Thor; which, in my opinion, rocked.
Here's my 2 favorite things from my weekend yard sale-ing: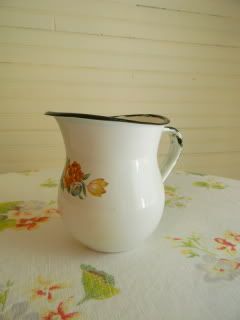 (Small enamelware pitcher with floral design on the front)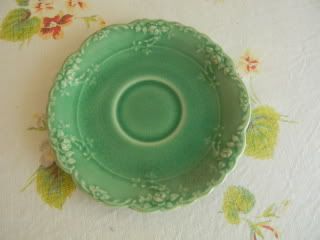 (Awesome apple green saucer with raised floral design.... I would trade almost my other dishes for an entire set of these!)