So I took my camera out and started to catalog some things that make me smile this morning.....
The first thing that made me smile was
this post
at Jean Jean vintage. She collects and sells the most amazing antique jewelry at her
Etsy shop
that I drool over ... sometimes daily....
My cat's vet makes me smile. I know some of you moms are particular about your kid's pediatrician, and I am that way about my vets. Look at the nifty reminder cards my cat's vet sends me; all personalized and everything!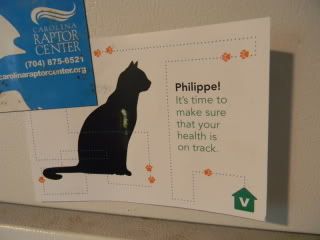 Speaking of Phileppe - he makes me smile, too. Here is my camera, getting kitty kisses.
Not to be left out - Dodge also makes me smile, and also gives sweet puppy kisses.
Imelda May makes me smile! And makes me want to dance, and sing, and dress up in my 1950's duds and wear red lipstick. And her latest album makes me smile. I've been listening to it as I do my painting. And this song makes me smile!
Tulips. Tulips make me smile. These are my "Mother's Day" tulips. They were ordered for my mother-in-law, but mistakenly sent here - which did not make me smile - since Kevin's mother got no flowers from us on Mother's Day. She's getting her tulips late; but when these were delivered to the house yesterday, I still smiled.
The window flower boxes I installed on my garden shed....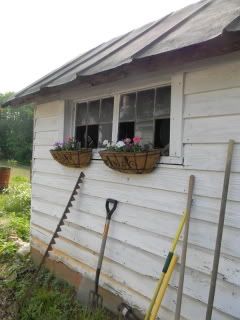 Winning dinner tickets....
My herb/flower garden...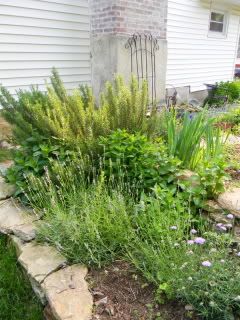 Cherries - and the fact that I have a cherry tree in my yard....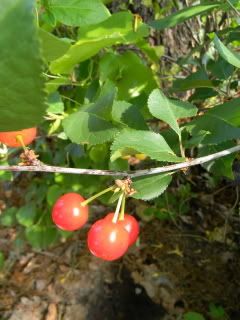 And Peonies! I love peonies!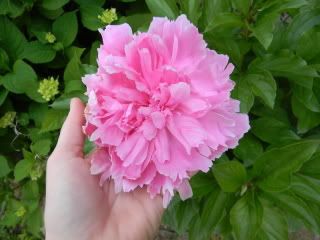 Peonies on bushes in the garden...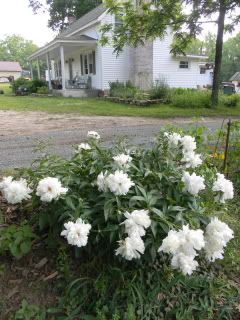 Peonies in old blue canning jars....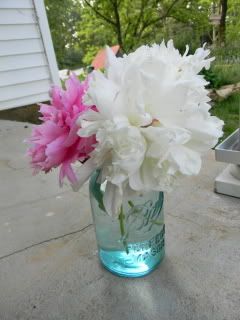 Peonies in old blue jars next to vases of tulips on hall tables....
Peonies make me smile wherever they are.
The list was getting really long, so I had to quit. For now. What makes YOU smile?
Seriously, give the song a listen. I think you might enjoy it.